Who was Captain Keeton?
One of the two primary missions of our scholarship program is to preserve the story of James H. Keeton.
For a good introduction, see the biography at the
Alabama Aviation Hall of Fame
.
In preparation for a 20th Anniversary Celebration of the Key Brothers Flight (1955), he wrote a letter about his experience as their refueling pilot.
Here it is.
Click here for the text version of Captain Keeton's recorded speech titled "How to Become an Airline Pilot."
Click here for the audio version of the same speech.
It's 1 hour 37 minutes, and the .mp3 file is just under 92 Megabytes.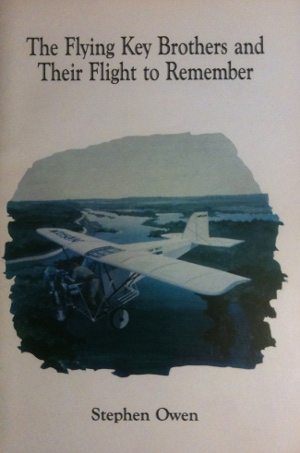 Stephen Owen wrote a book called
The Flying Key Brothers and Their Flight to Remember.
Note James Keeton's signature on the back of our copy of the book, above and to the right. It's a great historical narrative about the story of the refueling flight, which is notably absent from the speech above. It's a fantastic story, and I would recommend it for sure.
Click here to buy a copy!
Our next research project is to figure out which of the airplanes Captain Keeton flew in the collection of the National Air and Space Museum. He once said that there were five, leaving three in addition to the "Ole Miss" and the United Boeing 247D.